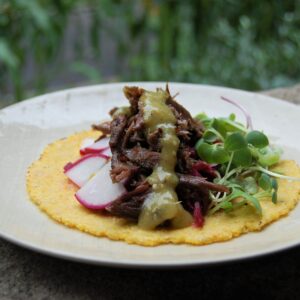 Braised Groundhog Tacos
In the world of small farming and vegetable gardening there are few animals as notorious as the groundhog (Marmota monax). These fluffy marmots often take up residence in burrows smack in the middle of the growing space and wreak havoc on brassicas, beans and pretty much anything else that they can reach. In Pennsylvania their status as a garden pest and healthy population have earned them an almost year-round open hunting season. This allows us to turn what would have been catastrophic losses in our garden into a few meals. The meat from groundhogs can be tough so the best preparation we have found to date is a long slow braise after which it falls off the bone. After a long braise, I find the flavor and texture to be very similar to dark meat turkey. For detailed instructions on how to butcher and part out a groundhog, check out this excellent video from Hunt to Eat.
Ingredients
1

Groundhog

1

Qt.

Stock

vegetable, game or mushroom stock will all work

Corn tortillas

Radishes

Microgreens

Salsa Verde

Cilantro

or other fresh herbs
Instructions
Heat ghee or other high-heat oil in a Dutch oven and sear the parted-out groundhog on all sides until brown.

Once the meat is sufficiently browned, pour in your quart of stock to deglaze. Depending on the size of your groundhog, you might need to add more than 1 quart to cover the meat.

Bring the stock to a boil and then cover and lower to a simmer for 3-4 hours or until the meat is tender.

Remove the meat from the pot, strip from the bones and pile the boneless meat in a bowl.

Assemble your tacos with some meat, chopped radishes, microgreens, fresh herbs and salsa verde.