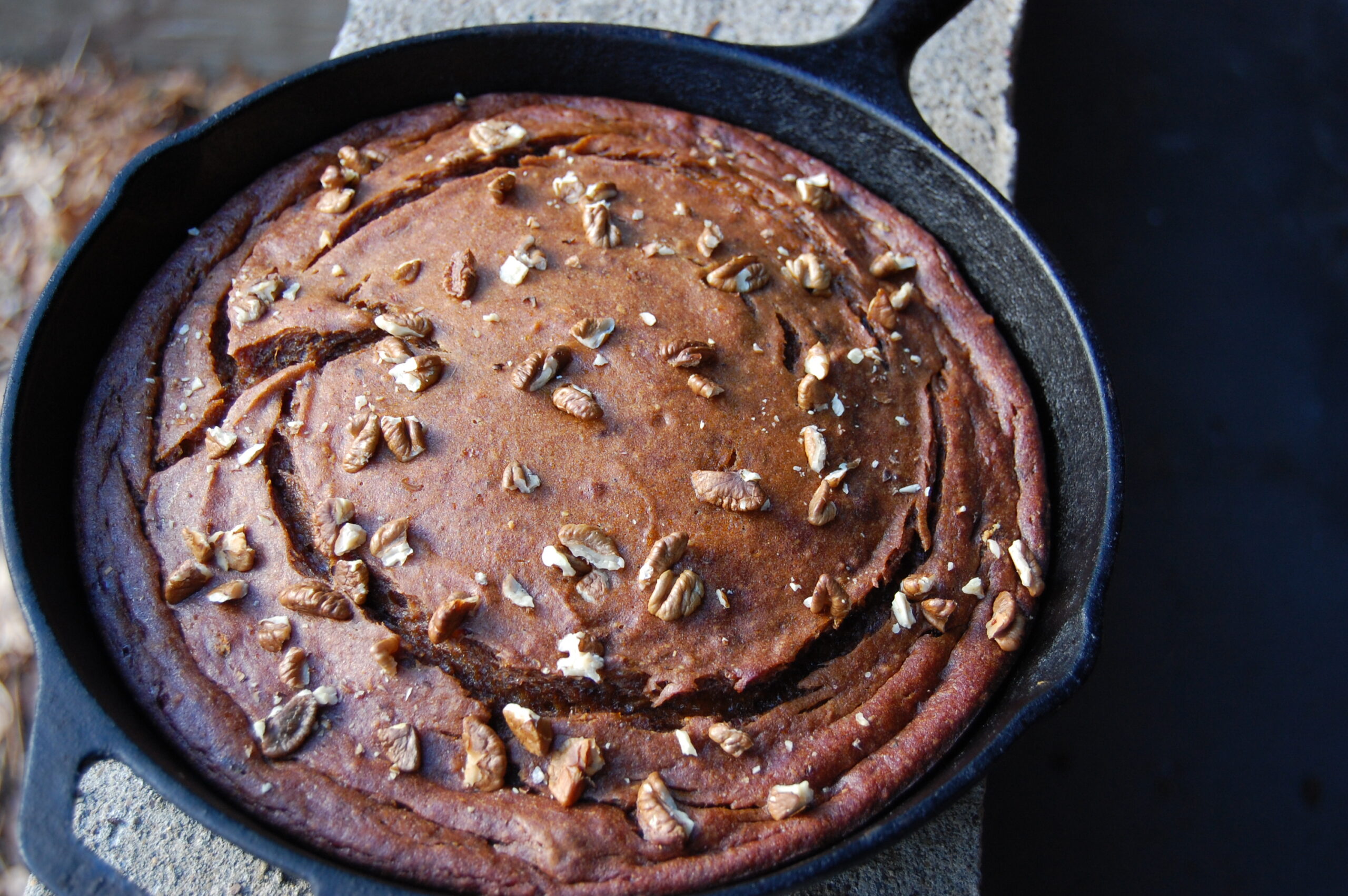 American Persimmon Pudding
The American Persimmon is a truly unique fruit experience. The trees grow all over the Southeast and are stately specimens, tall with deeply cracked bark and dark green, oval leaves. In Autumn, the leaves fall and the quarter-sized fruits start to soften and turn a deep orange, making them very eye-catching, but wise foragers know to wait until they are gooey and appear almost rotten. If you eat one before it has completely ripened you will never forget it, as the astringent fruit dries your mouth out completely. But patience is rewarded because the ripe fruit has a sweet caramel flavor and jammy texture with an unbelievably vibrant color. You can smear it raw on toast or go for something a little more involved (but still very simple) like this pudding recipe below. It is called a pudding in the old American or English tradition, but is more like a soft cake. Persimmon pudding is a dish that has been around for centuries that we've put our own spin on, adding chopped hickory nuts and using honey instead of sugar to make it even more of a reflection of our environment. It is great served on its own but even better with a scoop of vanilla ice cream.
Ingredients
2

cups

persimmon pulp

1/2

cup

honey

1

cup

flour

2

eggs

1

cup

whole milk

2

tbsp

melted butter

1

tsp

baking powder

1

tsp

baking soda

1/4

tsp

salt

1/2

tsp

spicebush powder

can sub allspice

1/2

tsp

cinnamon

1/2

cup

hickory nuts

optional
Instructions
If you are using whole persimmons, the easiest way we've found to get the pulp out is to push the fruit through a mesh strainer with a spatula. Save those seeds for persimmon "coffee" (recipe to come)!

Mix together the persimmon pulp, eggs, milk, honey and butter together in a bowl and whisk until well-combined.

In a separate bowl, mix the dry ingredients.

Add the dry to the wet and mix until incorporated. If using chopped nuts, mix these into the batter, reserving a handful to sprinkle on top before baking.

Pour the batter into a greased 8 or 9-inch baking dish or cast-iron skillet and put in an oven preheated to 350 degrees F. Bake for about 30 minutes. The top should be dark brown with a slight crust but the middle will still jiggle a bit. Let cool for about ten minutes before serving.