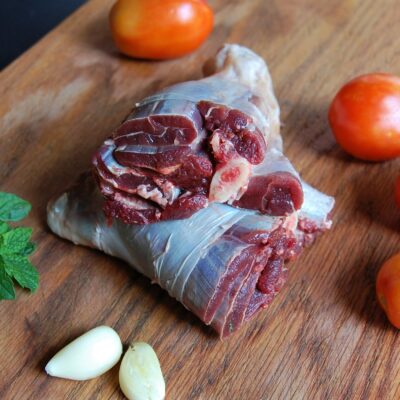 Syrian Style Venison Shanks
One of my happiest realizations when I harvested my first deer and started experimenting with the meat was that it has a remarkably similar taste and texture to lamb. Growing up, a lot of the traditional Syrian dishes that I ate were made with lamb (often a mixture of beef and lamb). As I started to avoid eating commercially produced meat, I mostly cut those dishes out of my diet. Now that I once again have that missing ingredient, I can incorporate all of these meals back in my cooking and share them with Silvan, who only eats meat that we hunt.
This recipe is a riff on a Syrian and Lebanese dish called Loobee (also pronounced Loobya). Loobee, which means "green beans" in Arabic, is a spiced tomato stew with chopped green beans. The stew typically includes lamb shanks or cubed beef when available, but it is also commonly served in a vegetarian form as a side dish over rice pilaf. There's something about the smell of spiced stewing tomatoes and braising meat that will take you back to your childhood even if you've never heard of this dish.
Ingredients
1

venison shank

4

medium garlic cloves

1

tsp.

cumin

1

tsp.

cinnamon

20

peeled plum tomatoes

or about 3 cans

½

lb

green beans with stems removed

1

tbsp.

olive oil

½

tsp.

black pepper

1

tbsp.

chopped fresh mint

1

tbsp.

chopped fresh parsley

1

hot pepper of your choice

optional

Salt to taste
Instructions
Blanch your plum tomatoes in boiling water and remove the skins. Set the peeled tomatoes aside in a bowl.

Cut your venison shank in half with a bone saw or clean hacksaw (or leave whole if it fits in your cooking vessel). Salt the meat and coat it evenly with half of the cumin and cinnamon.

Peel 2 of the medium cloves of garlic.

Cut a deep slit in the meatiest part of each half of your venison shank big enough to fit the peeled garlic cloves. Push the garlic clove into the slit until it is completely enclosed in meat. (these cloves will melt into the meat as it simmers)

Heat your olive oil in a saucepan on medium heat. When the pan is hot, place your shanks in the oil and sear on all sides.

When all sides of the shank are sufficiently browned pour in your bowl of peeled tomatoes and scrape the brown bits off of the pan to incorporate.

Add the remaining 2 cloves of garlic to the tomatoes and meat along with the black pepper, mint, parsley, hot pepper and remaining cumin and cinnamon.

Salt the spiced tomato mixture, but keep in mind that it will reduce so use less salt than you think you need.

Bring the tomato mixture to a boil and then reduce the heat to low, cover the pot and simmer for 4-5 hours or until the meat is fork tender

When the meat is almost ready, add your chopped green beans and continue simmering for 20 minutes.

Once the meat and green beans are cooked and tender, scoop them out and top them with a generous amount of the braising liquid, freshly chopped mint and parsley. Serve with a side of rice pilaf and a thick yogurt like labneh or greek yogurt.