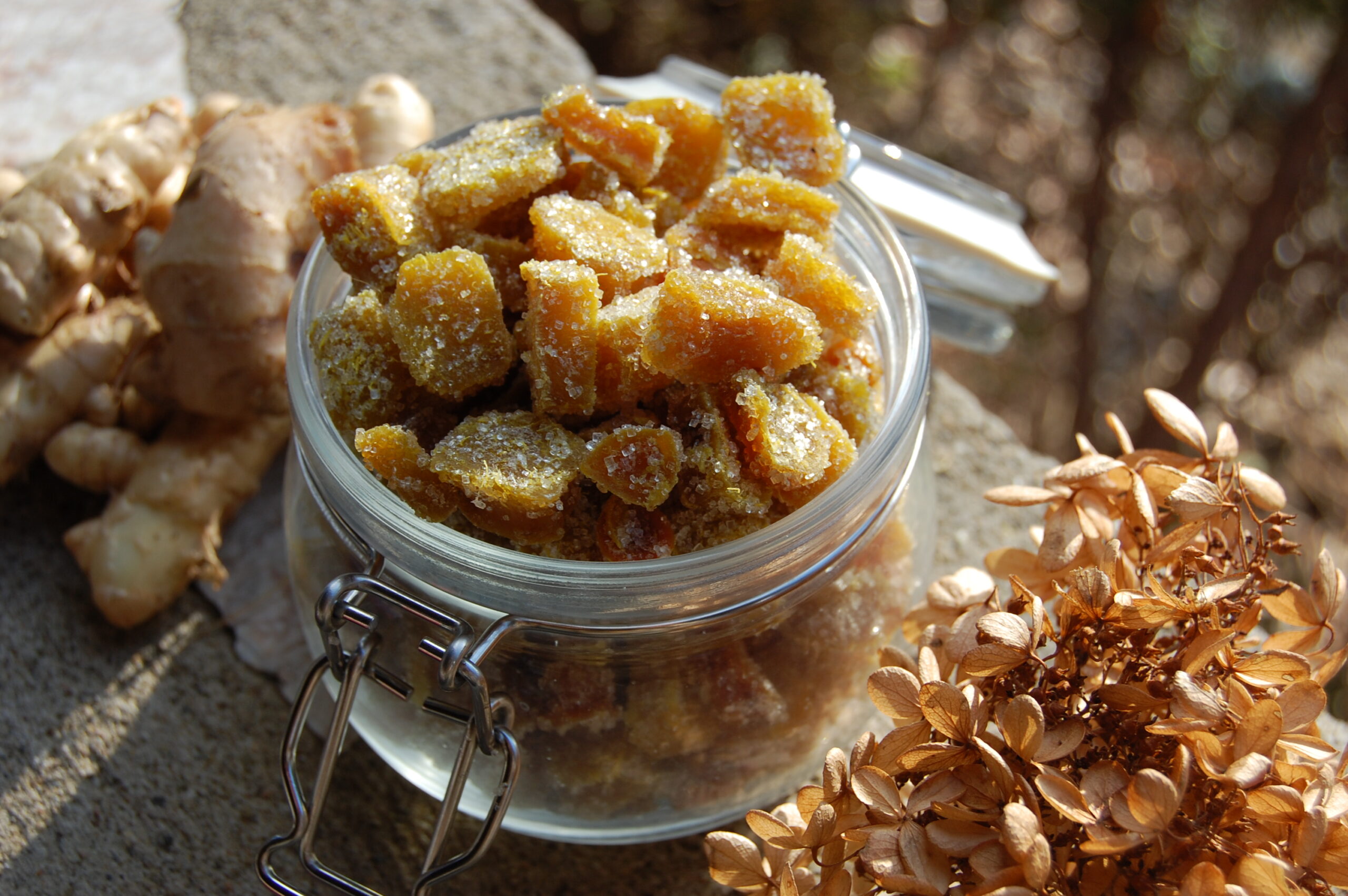 Homemade Candied Ginger
I have fond childhood memories of eating these until my mouth hurt- they are sweet but also intensely flavorful and spicy from the fresh ginger. Because of the word "candied" I always assumed there was some complicated process involved and little actual ginger, but it turns out candying is a very simple and straightforward way of preserving fresh ginger, which doesn't have the shelf life of mature ginger. They are an excellent candy on their own or put into baked goods but do double duty medicinally- ginger has been shown in many scientific studies to reduce nausea, especially morning sickness. You can do this using store-bought ginger but be sure to get young, fresh rhizomes (these can be found in many Asian markets). Very mature ginger will be too stringy and result in a final product that isn't very pleasant to chew. Luckily, ginger is fairly easy to grow, even in colder climates like ours in Western Pennsylvania. You can learn more about that in one of Jordan's recent gardening articles. Turmeric is a rhizome that grows in very similar conditions and has many health benefits, and can also be crystallized using this method. In this recipe I have put measurements for using a pound of ginger but also explained how to modify the recipe for whatever amount you have on hand.
Ingredients
1

pound

young/baby ginger

1

pound

sugar

raw or white is fine
Instructions
Peel and slice your ginger into bite size chunks (or thin slices using a mandolin). Weigh your sliced ginger and set aside, then weigh out the same amount of sugar.

Put the ginger in a pot and cover with water, then simmer for approximately 35 minutes. This time will vary depending on how much ginger you are using, but the ginger should be tender and easily pierced with a fork.

Drain the liquid from the pot into a bowl and reserve 1/4 cup per pound of ginger. You can save the rest of this very strong ginger tea to flavor soups.

Now put the ginger, cooking liquid, and sugar back into the pot and bring to a boil. Reduce to a simmer and cook for another 30-40 minutes, stirring occasionally, until the liquid has reduced into a thick syrup.

Drain the ginger again. Reserve that delicious syrup to use later! Now spread the slices out on a drying rack or dehydrator tray and let them sit for an hour or two until they are mostly dry but still sticky.

Toss in a bowl with sugar and put back on the dehydrator tray. In drier climates they can simply sit out, and if you don't have a dehydrator you can put them in the oven on its lowest setting. Dry overnight or until dry and crunchy on the outside. Once they are dry and cool you can put them into an airtight storage container and store in a cool, dark place for up to a month. For long term storage, put in an airtight back and refrigerate or freeze.