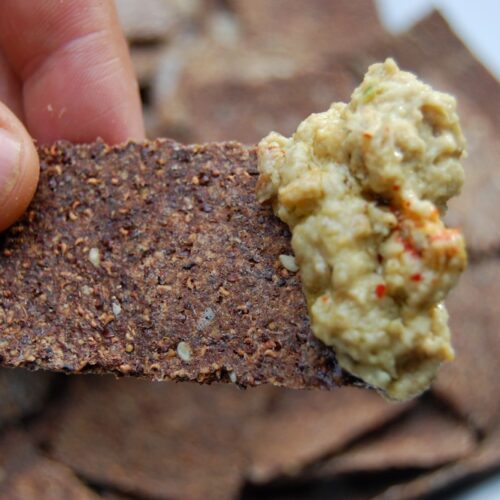 Dock Seed Crackers
These crackers are rich and hearty, delicious paired with a sharp cheese and honey or dipped in hummus. I used some puffball mushroom powder I had on hand in this recipe to add some extra savory flavor, but feel free to substitute with wheat flour for a more neutral cracker. I also made a batch with everything bagel seasoning (sesame seeds, poppy seeds, dried garlic and onions), which turned out delicious and surprisingly similar to those pretzel crisps in the grocery store. But I encourage you to experiment with different seasonings to suit your taste!
Ingredients
2

cups

dock seed flour

1.5

cups

whole wheat flour

1/2

cup

puffball mushroom powder

(sub whole wheat or all-purpose flour)

1/4

cup

water

1

tsp

salt

1

Tbsp

everything bagel seasoning

(optional)
Instructions
After collecting your dock seeds, spread on a baking tray and dehydrate in the sun or bake on low in the oven until dry and slightly toasted. Toasting longer will bring out the nuttiness of the seeds, but make sure you don't burn them!

Blend your seeds in a spice grinder or high speed blender. You can process into a fine powder, but I like to leave some of the seeds whole for a sturider, crunchier cracker.

Taste your dock flour. If it has a bitter aftertaste, put it in a jar with enough cold water to cover and leave for 24 hours, shaking occasionally. Usually this is all it takes to leach out the bitter tannins, but if necessary you can replace with fresh water and repeat the process. Strain through a cloth to get out the liquid.

In a large bowl, combine the dock flour, mushroom powder, and wheat flour. Add salt and any additional seasonings and mix together.

Add in water, a little at a time, until the mixture holds together but isn't overly sticky. Knead until well incorporated and form into a ball. Cover and let sit for 10 minutes.

Take half of your dough and lay out on a greased and floured baking sheet or parchment paper. Roll out into a thin rectangle, about 1/8 inch thick.

If the edges have cracked or formed holes, you can pinch them together or take additional dough to repair them. Cut the rectangle into whatever shape you'd like your final crackers to have.

Bake at 375 F for 15-20 minutes. Let cool completely before storing in an airtight container for up to a week.
Curly dock (rumex crispus, although many dock species will work as well) seed is easily identifiable from mid-Summer through Fall by its tall spikes of rust-brown seeds. It is often growing in large patches near agricultural fields or other disturbed areas. By grabbing the plant at the base of the seed head and stripping the seeds off into a bag, it's easy to collect a lot in a short amount of time. Processing them is another thing though, as the chaff clings rather stubbornly to the seeds. So most foragers just leave it in and view the roughage as a helpful addition of fiber to one's diet.
Dock is related to buckwheat, and the seeds have a similarly nutty, earthy flavor to their cultivated cousins. Depending on the plant and the growing conditions, the flavor of the seeds can veer into unpleasantly bitter, but leaching the flour for a couple days in cold water (like you would do with acorn flour) will get rid of the bitterness.