Pumpkin Seed Salsa Macha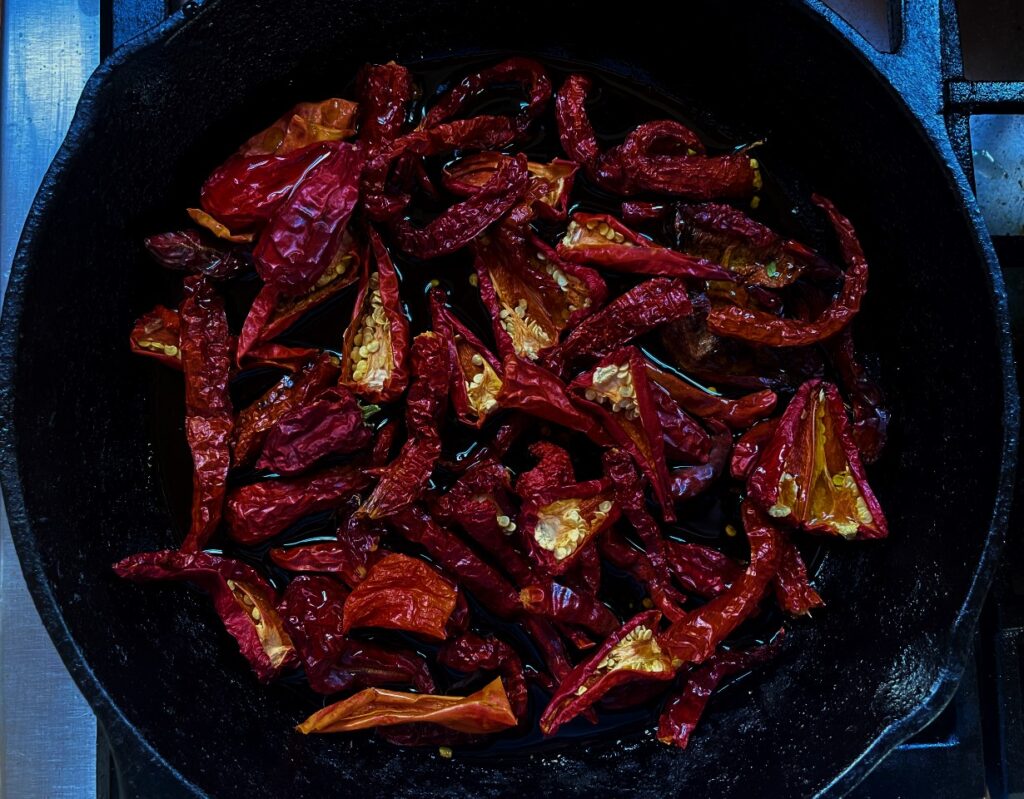 I thought I knew all about salsas. Red ones, green ones, fruity ones, punishingly spicy ones and subtle mild ones. But somehow, I had never made salsa macha until this Winter. Because they are one of my favorite things to grow, we have an abundance of dried chilis in our pantry and I'm always on the lookout for more ways to use them beyond the obvious hot sauce or throwing them in pots of beans.
Salsa macha is very different from your typical jar of salsa in the grocery store and is much closer related to Asian chili oil or chili crisp (you can read more about the interesting history and potential origins of the condiment here). Think of it as an all-purpose condiment to drizzle on anything that needs some spice, tang, and crunch (and really, what doesn't?). Tacos are an obvious choice and we love to top venison steak with salsa macha and cilantro for a killer combo, but I've also put it on popcorn, fried eggs, roasted vegetables, or a spoon headed directly to my mouth, all with great effect.
It's also very versatile. The core ingredients are dried chilis, oil, and some kind of toasted seed or nut, often sesame seeds and peanuts. But the types of chilis, seeds, or other add-ins are a great opportunity to get creative; I've even seen some vendors adding in dried fruit, cacao nibs and coffee! We have primarily been making it with pumpkin seeds as indicated in the recipe below because we also grow a ton of pumpkins every year as a winter storage staple. Pumpkin seeds are an excellent source of healthy fats, antioxidants and nutrients like zinc and iron. We toast ours straight from the pumpkin so they still have their outer hull on them which adds some extra fiber and crunch, but you could also use the naked pumpkin seeds or pepitas available at most grocery stores.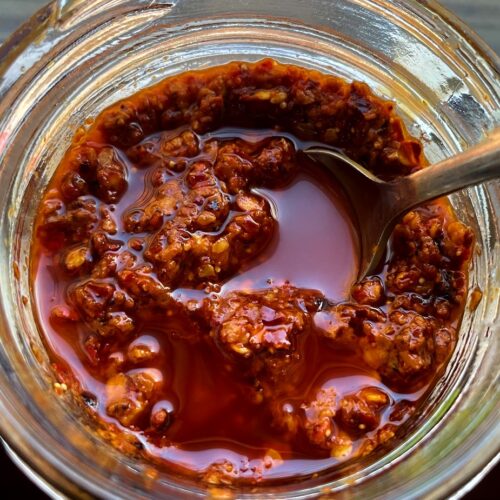 Pumpkin Seed Salsa Macha
Meet your new favorite condiment. This delicious salsa from the Veracruz region of Mexico has it all- crunch, heat, tang and flavor- and is very easy to put together. It is also extremely versatile so once you've made our version have fun experimenting with different ingredients in your region or garden!
Ingredients
½

cup

olive oil

or other vegetable oil

½

cup

raw pumpkin seeds

15-20

small dried hot chilis, like chili de arbol

1

tsp

salt

2

Tbsp

apple cider vinegar

¼

cup

roasted pumpkin

optional

2-3

large cloves

garlic

minced

1

tsp

cumin seeds

or powder
Instructions
Put the oil and dried chilis in a pan on medium heat and toast, stirring frequently so they don't burn. Once they are brown in some places and fragrant , remove from the heat and put in a high-powered blender or food processor.

Add a little more oil to the pan and put in the pumpkin seeds (as well as any other nuts or seeds you might be adding). If you are adding a small seed such as sesame, wait until the pumpkin seeds have toasted for a few minutes since they will take longer.

When the pumpkin seeds are lightly browned, add in the garlic and cumin seeds and stir frequently until the garlic is crunchy and golden.

Add the seeds and garlic to the blender or food processor along with the salt and vinegar. We like to put a scoop of roasted pumpkin in ours sometimes too, since we already have it on hand to get the seeds from. It adds a little creaminess and sweetness which is nice but completely optional!

Blend to incorporate all ingredients and roughly chop into small pieces but don't let it go all the way to a puree- you want to preserve that crunchy texture!

Adjust salt and vinegar to taste and then store in an airtight container in the fridge for up to a month (but if you're like us it will be gone in a week).